Teen Patti Stars is a responsible gaming operator and wants to remind our players of the following: If you are spending more time than you realize playing games, please consider limiting your playtime.
If you are concerned about problems with friends or family members playing games excessively and displaying gambling-like behaviors, we encourage you to contact our guest service team for further guidance and resources.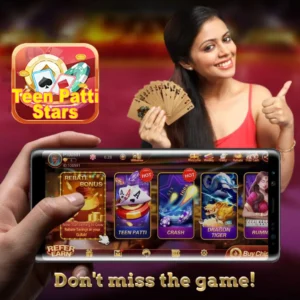 TO PROMOTE RESPONSIBLE GAMING
We want to help you take care of yourself and those around you, so we're making information available promoting responsible gaming and where to find assistance, including a toll-free help line number.
TO PREVENT UNDERAGE GAMING
We can not accept any bet from underage individuals and this policy is implemented carefully to avoid any misuse of our services and games.
Pledge to Our Employees
Tips on Responsible Gaming
Learn how the games are played
We know that you're here to have fun, but we also want to make sure that you know how the games are played and that you're not making large bets without understanding how the game works. Ask our staff members about the betting process and house advantage on a game before you play. They can help ensure your gaming experience is safe and fun!
Lead a balanced lifestyle
Gaming is fun, but it shouldn't be the only hobby you enjoy. Don't think of your leisure time as solely gaming time: treat yourself to other hobbies, too. Try taking up a new sport, like tennis, or join a dance class.
Set a time and money limit.
Set a time limit and a money limit, and don't cross either one. Knowing exactly when you're going to walk away from your mobile devices will help you focus on your game. Set an alarm to remind yourself that it's time to quit playing and stick to your limits!'
Keep track of how much you've won or lost.
Keep track of your wins and losses. Write down the date, type of game, and amount won or lost at that game mode. That way you can see how much money you've won or lost over time.
Underage Online Gaming Protection
Our responsibility to keep the Teen Patti Stars environment safe for all minors is important to us. As such, we follow these important guidelines to protect minors when they access our services:
Protect your devices with a password. This helps prevent minors from accessing the internet without adult supervision.
Teen Patti is a safe gaming environment for all players, but it is crucial that you keep your account username and password private at all times.
• Avoid using auto-fill for login information.
• Remove the ability to save a password.
• After your game session is over, log out of the Teen Patti Stars app.
To limit access to the Teen Patti Stars App, use parental control software.
Inform young people about the negative effects of online gaming.
Myths Associated with Online Gaming
| | |
| --- | --- |
| Online Gaming Isn't Addictive | It's intentional for online gaming to be addictive. |
| Eventually, if you keep playing, you'll get your money back. | The losses increase with the length of time a person has an active gaming addiction. |
| Gaming Addiction Isn't Really a Problem If You Can Afford It | Obsessive gaming is a symptom of deeper emotional and coping issues. |
| Gaming is merely a financial issue. | Gaming addiction produces issues that go far beyond financial losses. |
| Criminal Behavior is Practiced by All Gamers | Gamers who seek and accept assistance can recover before resorting to criminal activity to fund their gaming. |
| Feeling lucky indicates that you will win. | A fundamental component in the development of gaming addiction is distorted perceptions about luck. |
Together We Can Make a Difference
If you are concerned about your own gaming behavior or the gaming behavior of someone you care about, reach out to our official website by simply leaving your concern below.
Underage Gaming
One of the most essential components of responsible gambling is the prevention of underage gaming, and it is our policy to ban from gaming those individuals who have not achieved the legal age as stated in the area in which we operate. Underage gamblers who are discovered on the gambling floor may be ejected and/or arrested.
Adults with online gaming accounts should keep their sign-on information safe and create strong passwords to prevent children from accessing their accounts.